Boo! Happy Halloween Everyone!, here is the slightly less spooky November update, which includes, the first of three 1973 issues I've bought lately, No.5 is missing page one of the David Cassidy strip. No.15 from 1981 is another of David Dovey's and is complete...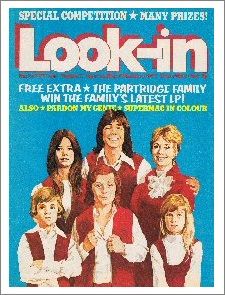 27th January 1973 - No.5
Cover:
Susan Dey, David Cassidy, Shirley Jones,
Jeremy Gelbwaks, Danny Bonaduce and Suzanne Crough
Strips:
On the Buses, Settle Down Now! with Ken Goodwin, Doctor in Charge,
The Adventures of David Cassidy, The Fenn Street Gang, Mark Strong,
Elephant Boy, Follyfoot, Les Dawson is Superflop and Pathfinders.
4th April 1981 - No.15
Cover:
Herbie by Arnaldo Putzu.
Strips:
Elvis the Story, Buck Rogers in the 25th Century, Worzel Gummidge,
Charlie's Angels, Sapphire and Steel and Meet the Smurfs!