It's time to bid goodbye to 2014, but not before giving you the January update, which includes 1978 - No.41,
Showing a 'super' set of Smurf stickers on the cover, If anyone has the stickers to scan let me know, likewise if you have page 1 of SMDM, which is also missing here.
You can also have one of David Dovey's, 1981 - No.21, which has Bill Titcombe's attempt at Charlie's Angels as a curiosity piece.
Have great time on New Years Eve, and I'll see you in the new year with more Look-in.
HAPPY NEW YEAR!!
7th October 1978 - No.41
Cover: Andy Gibb by Ivan Rose
.
Strips:
The Benny Hill Page, The Six Million Dollar Man,
Enid Blyton's Famous Five, Meet The Smurfs!,
How The West was Won, The Bionic Woman and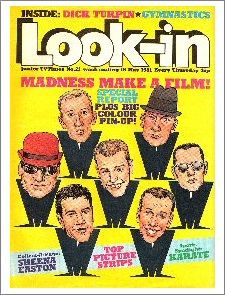 16th May 1981 - No.21
Cover: Madness by Harry North
.
Strips:
Elvis the Story, Buck Rogers in the 25th Century,
Worzel Gummidge, Charlie's Angels, Smuggler and