A bumper lot this week, with No.4 from 1971 in full, No.41 from 1984 and Dan has sent another 1973 issue, No.41, and because it was pretty much ready to go, I decided to add it.
All are complete...enjoy...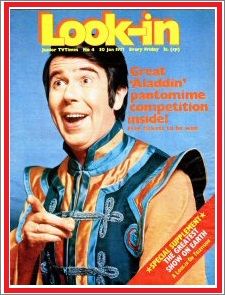 30th January 1971 - No.4 (Full Issue)
Strips:
Crowther in Trouble (Tom Kerr), Freewheelers (Unknown), Wreckers at Dead Eye (Unknown) Please Sir! (Unknown) and Timeslip (Mike Noble).
Cover:
Kevin Keegan by Arnaldo Putzu.
Strips:
On the Buses (Harry North), Settle Down Now! with Ken Goodwin (Arthur Ranson), The Tomorrow People
(John M. Burns)
, Les Dawson is Superflop (Arthur Ranson), The Adventures of David Cassidy (Alan Parry), The Fenn Street Gang (Unknown), Follyfoot (Mike Noble) and Doctor in Charge! (Tom Kerr)
Strips:
Rock on Tommy! with Cannon and Ball (Bill Titcombe), Terrahawks (Steve Kyte),
The Fall Guy
(Jim Baikie)
, Knight Rider
(Barrie Mitchell)
, Danger Mouse
(Arthur Ranson)
and
Bucks Fizz
(Raymond)
.