A big thank you to Dan who has managed to get me page 2 of Timeslip for issue 36 from 1972.
This now gives me the full run of Timeslip. Timeslip is the strip that I had to buy Look-in to see, without it I probably wouldn't have become a regular reader and the site and blog would not have happened. This also means I can do Timeslip in the whole story soon. Thanks for that one Dan.
Here is the link to the issue including the complete Timeslip strip...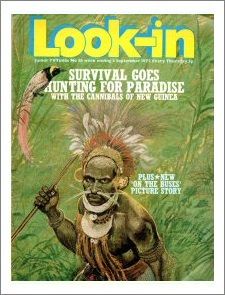 2nd September 1972 - No.36
Cover: Tribal Cannibal by Gerry Embleton
Strips: Crowther in Trouble, On the Buses (Harry North), Doctor in Charge,
Please Sir!, Catweazle (Gerry Embleton), Follyfoot (Mike Noble),
The Fenn Street Gang, Les Dawson is Superflop (Arthur Ranson),
Mark Strong and Timeslip.