1988 and just two issues here, the full issue is No.27. The strip mix should read across two pages but I had the ingenious idea (well I thought it was!) to cut and paste the strips so they could be read within CDisplay, but you can get the untouched version later on in the file. This one is mine and complete.
The other one is No.41, DM returns and we complete the trilogy of 'intelligent' vehicles with the flying version, non other than Airwolf, still never hit the spot for me like Knight Rider did and still the best of the three. This one I got off the internet, I think it was from the Mag-A-Zone gang so thanks to them.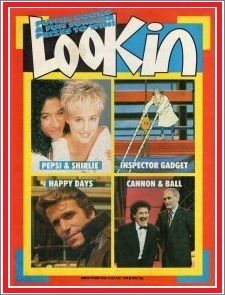 2nd July 1988 - No.27
Cover: Pepsi & Shirlie, Inspector Gadget, Henry Winkler, Bobby Ball and Tommy Cannon.
Strips:
Strip Mix 1 - The Trap Door,
Jimmy Cricket
,
Roger Ramjet (Andy) and
Garfield
(Jim Davis)
, Gilbert,
Adventures of the Galaxy Rangers
(Arthur Ranson)
, Inspector Gadget, The 5 Star Life (Gray),
and Rock on Tommy! with Cannon and Ball (Bill Titcombe).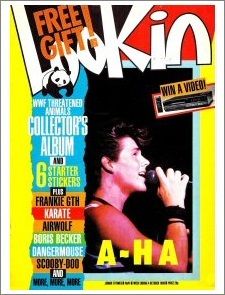 4th October 1988 - No.41
Cover: Morten Harket.
Strips: The Story So Far - Boris Becker,
Danger Mouse
(Arthur Ranson)
, The A-Team (Barrie Mitchell),
Rock on Tommy! with Cannon and Ball (Bill Titcombe),
Airwolf (Gray) and
Strip Mix - No.73 (Harry North), Alias the Jester (Arthur Ranson), Inspector Gadget and Scooby Doo
(Bill Titcombe)