The next 1979 issue arrives, it's No.31, is mine and is complete. The Smurfs are back in colour this week.
32 is available on the checklist, Sapphire and Steel arrive in the next reboot which will be issue 33.
Also, there is a bonus of the 1973 Holiday Special, there is only one strip in the whole thing, hope you are all Cassidy fans...!! Thanks to Zeg for the scans.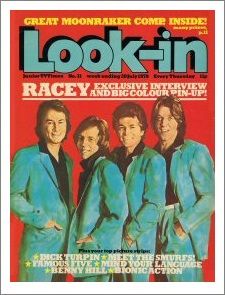 28th July 1979 - No.31
Cover: Racey
by Arnaldo Putzu
Strips:
The Benny Hill Page, Dick Turpin,
Enid Blyton's Famous Five,
Bionic Action,
Meet the Smurfs!
and Mind Your Language.
28th July 1979 - No.31
Cover: Stephen Lewis, Bob Grant,
David Cassidy
and Ed 'Stewpot' Stewart by Arthur Ranson
Strip:
The Adventures of David Cassidy.