Ken wrote to tell me that the Tomorrow People story from the 1977 Annual has an error, the last two pages should be joined so they read across the two pages. Thanks to Ken for pointing this out, and you can get an updated version with the joined pages added....it's HERE...
...and now to today's reboot, No.27, it's from me and complete. (n.b. no second colour strip in this issue, for a few weeks before Sapphire and Steel started, Look-in alternated between having features and double page colour Smurf strips on these pages, this week had a tennis feature).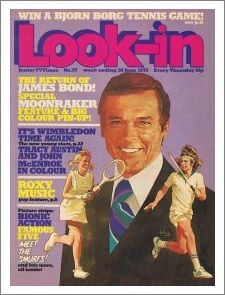 30th June 1979 - No.27
Cover: Tracy Austin, Roger Moore and John McEnroe
Strips:
The Benny Hill Page, Dick Turpin,
Enid Blyton's Famous Five,
Meet the Smurfs!,
Bionic Action
and Mind Your Language.