As I mentioned in an earlier post, I am missing No.24, so we continue with No.25, which is mine and complete.
If anyone has No.24, it would be great if you could send me the Dick Turpin strip, which would give me the full run of the strip...if you want to scan the full issue that would be good too...!!!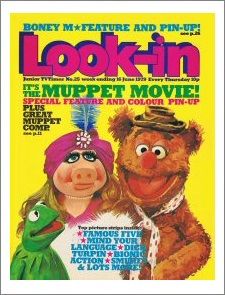 16th June 1979 - No.25
Cover: Kermit the Frog, Miss Piggy and Fozzie Bear
Strips:
The Benny Hill Page, Dick Turpin,
Enid Blyton's Famous Five, Bionic Action,
Meet the Smurfs!
and Mind Your Language.