Anyone who's been to the checklist lately will have noticed the covers going awry, this is because Photobucket was undergoing maintenance, they have now finished and everything seems ok. Here are this weeks issues. We are back in 1978 with No.40 and a another new painter John Geary, who was another of Arnaldo's stand ins, I supposed the guy must have had to holiday sometime! Not that John's paintings weren't amazing too!!...also, we have No.28 from 1981 with another favourite cover, a brilliant Clash of the Titans one, both are complete...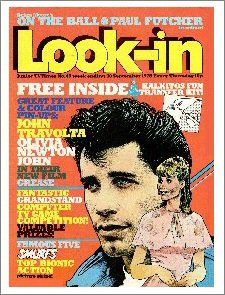 30th September 1978 - No.40
Cover:
John Travolta and Olivia Newton John
by John Geary.
4th July 1981 - No.28
Cover:
Sir Laurence Olivier, Harry Hamlin and Judi Bowker by
Arnaldo Putzu.
Strips:
Elvis the Story
(Arthur Ranson)
,
Buck Rogers in the 25th Century
(Martin Asbury)
,
Worzel Gummidge
(Mike Noble)
,
Smuggler (John M. Burns)
and CHiPs (Jim Baikie) Meet the Smurfs! (Peyo).