The next one No.44 has a 'Star Fleet' cover, a program similar to what Gerry Anderson did, and would become compared to 'Terrahawks' which didn't in fact, come out until a year later. I didn't like either of them to be honest but both would become Look-in strips.
This is mine and complete...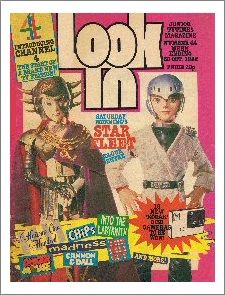 30th October 1982 - No.44
Cover: Makara and Shiro Hagen
.
Strips: Rock on Tommy! with Cannon and Ball (Bill Titcombe), The Fall Guy (Jim Baikie),
Into the Labyrinth (Mike Noble),
CHiPs
(Barrie Mitchell)
,
Danger Mouse (Arthur Ranson) and
Haircut 100 (Arthur Ranson).