First one of 1983, and features one of the biggest stars of 83' on the the cover, none other than E.T., who was on just about everything that year. A slightly different look with a new font on the cover and the logo now has a circle behind it.
'Star Fleet' starts in this issue and although stating it's a new picture strip, it is in fact the return of the 'It's Madness' strip, which had a short run previously and now returns for another one, prepare for Bucks Fizz in a picture strip pretty soon!
This is mine and complete...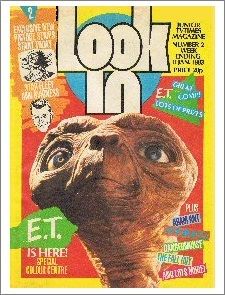 8th January 1983 - No.2
Cover: E.T.
Strips: Rock on Tommy! with Cannon and Ball (Bill Titcombe), The Fall Guy (Jim Baikie),
Star Fleet (Mike Noble),CHiPs
(Barrie Mitchell)
,
Danger Mouse (Arthur Ranson) and
It's Madness (Harry North).