New year, new issue. Back to business...here's 1982 - No.36, mine and complete. Coming soon, Worzel is due to end to be replaced by 'Into the Labyrinth', this is when it all went wrong for me, the only thing worth waiting around for was 'Robin of Sherwood', but I didn't stick with Look-in at the time. This is when I stopped reading, I was 19 at the time so maybe I was overdue to stop reading comics!! I just enjoyed reading Look-in and never saw my age as a good enough reason to stop. I was a big 'Smash Hits' fan too, so this was what I went over to big time.

Talking of which, if you are a big Smash Hits fan, check this out...if you are, then you're probably aware of this site.
Onto the issue...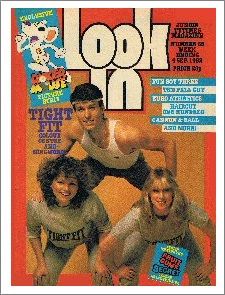 4th September 1982 - No.36
Strips:
Rock on Tommy! with Cannon and Ball, The Fall Guy
Worzel Gummidge,
CHiPs,
Danger Mouse and Haircut 100.