Here is another batch for you, In classics we have a great shot of Freddie, Barry Sheene appears (again!), another Nick Young pic and more, no C-a-P's this week, but we have some stuff from the nineties including two new MJ shots, Right Said Fred and Ally McCoist amongst others...
Look-in One Pagers - Set 17
Classic:
Kevin Tighe and Randy Mantooth
90's:
also here is a bonus issue, you may remember No.30 from 1979 had a lot of faded black and white pages, well our good friend Dan has sent me the pages I need to make this a more legible issue again, get the updated issue with the new pages now...
By the way there was no second colour strip in this issue.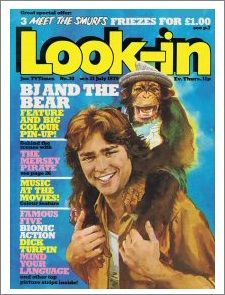 21st July 1979 - No.30 (Updated)
Cover: Greg Evigan by Arnaldo Putzu
Strips: The Benny Hill Page (Bill Titcombe), Dick Turpin (Martin Asbury),
Enid Blyton's Famous Five (Mike Noble), Meet the Smurfs! (Peyo),
Bionic Action (Ron Tiner) and Mind Your Language (Bill Titcombe).