Apologies to those expecting an update yesterday, for some reason Mediafire wasn't accepting my uploads.
Here we are then with two new issues, we have No.28 from 1978 and also we have a very changed No.33 from 1980, which has the Angels now in colour, Battlestar has moved to B&W and Sapphire and Steel are back for a second run. Enjoy...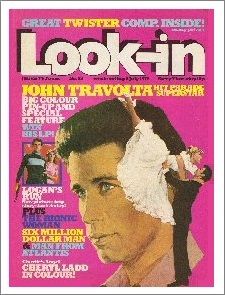 8th July 1978 - No.28
Cover:
John Travolta and Olivia Newton-John by Arnaldo Putzu.
9th August 1980 - No.33
Cover:
The Tourists
by
Arnaldo Putzu.
Strips:
The Benny Hill Page
(Bill Titcombe)
,
Charlie's Angels
(Jim Baikie)
,
Worzel Gummidge
(Mike Noble)
,
Meet the Smurfs!
(Peyo)
,
Battlestar Galactica
(Martin Asbury)
, Sapphire and Steel (Arthur Ranson)
and Mork & Mindy
(Bill Titcombe)
.