76 has gone and we move into 1977, with a reboot issue that was missed, it's No.40, that was picked up from Daz's archive, and another of David's which is No.24 from 1979. This issue has a CHiPs episode that was in text form. Due to a contractual disagreement, CHiPs had to be pulled abruptly, and this episode was allowed to be concluded in text form. CHiPs did reappear when the the problem was sorted. Both issues are complete...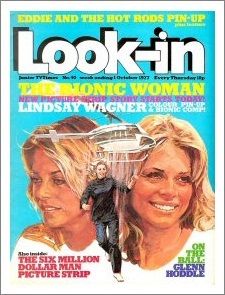 1st October 1977 - No.40
Cover:
Lindsay Wagner by Arnaldo Putzu.
9th June 1979 - No.24
Cover:
ABBA
by
Arnaldo Putzu.
Strips:
The Benny Hill Page
(Bill Titcombe)
,
Dick Turpin
(Martin Asbury)
,
Enid Blyton's Famous Five
(Mike Noble)
,
Meet the Smurfs!
(Peyo)
,
Bionic Action (Barrie Mitchell),
CHiPs
(Text)
and Mind Your Language
(Bill Titcombe)
.