Here are the latest two. We take a slight step back for a missed issue, No.26 from 1976 from my collection, and more from David, a 1979 issue, and that is No.6/7 (a double issue due to a strike at the time). Both are complete.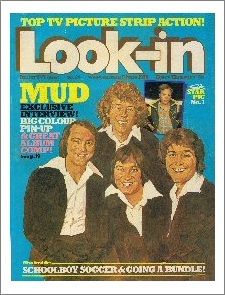 5th June 1976 - No.24
Cover:
Mud by Arnaldo Putzu.
10th February 1979 - No.6/7
Cover:
John Travolta
by
Arnaldo Putzu.
Strips:
The Benny Hill Page
(Bill Titcombe)
,
The Six Million Dollar Man
(Martin Asbury)
,
Enid Blyton's Famous Five (Mike Noble), Meet the Smurfs! (Peyo),
How the West Was Won (John M. Burns),
The Bionic Woman
(John Bolton)
and Mind Your Language
(Bill Titcombe)
.