Are we all getting excited for the new Star Wars movie at the end of the year? All the old crew will be back and here they are looking a bit younger and fitter (32 years fitter to be exact!) on the cover of this issue of Look-in.
It's No.23, mine and complete...
Oh and by the way, get well soon Harrison Ford.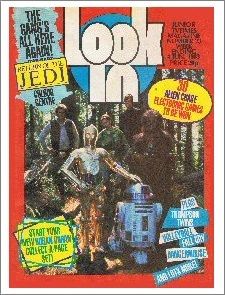 4th June 1983 - No.23
Cover: Harrison Ford, Anthony Daniels, Carrie Fisher, Mark Hamill,
Peter Mayhew and Kenny Baker.
Strips: Rock on Tommy! with Cannon and Ball (Bill Titcombe), The Fall Guy (Jim Baikie),
Murphy's Mob (Barrie Mitchell), Star Fleet (Mike Noble), Danger Mouse (Arthur Ranson)
and Bucks Fizz (Raymond).