Here is No.52 and the Annual to finish off 1980. No 52 is Daz's and the Annual is mine, both complete.
The Annual has only one story, an abridged version of the ABBA strip from 1977.
1981 starts next update, and the new look, Look-in
is coming soon...
20th December 1980 - No.52
Cover:
The Police by Arnaldo Putzu.
Strips: The Benny Hill Page,
Buck Rogers in the 25th Century
,
Worzel Gummidge,
Meet the Smurfs!
,
Charlie's Angels
, Sapphire & Steel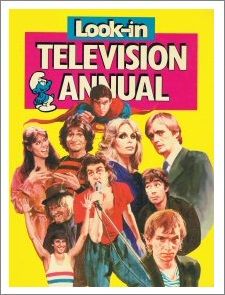 1980 - Annual
Cover:
Christopher Reeve, Pam Dawber, Robin Williams, Joanna Lumley,
David McCallum,
Jon Pertwee,
Bob Geldof, Jimmy Pursey, Seb Coe
and Sting by Arnaldo Putzu.
Strip: ABBA - The Story.